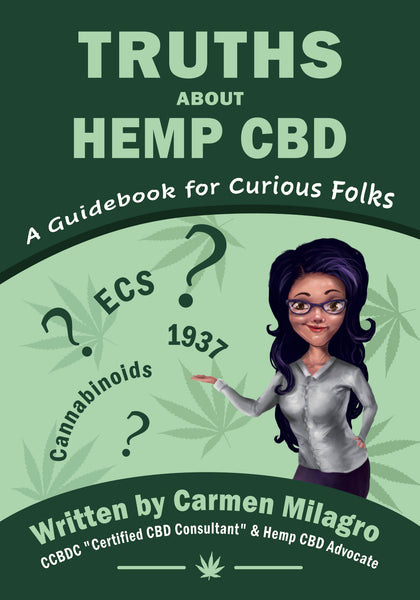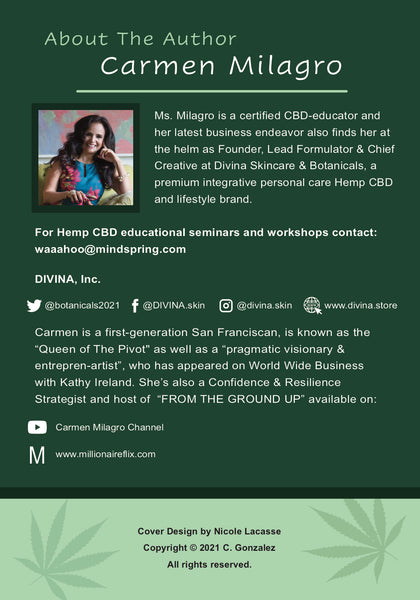 #7 Truths.... An E-Guidebook for Curious Folks
This guidebook will provide you with some information, facts, and, yes, some of my own notes, including personal observations and opinions about the research I've done regarding this ancient plant wisdom. You may, of course, accept or reject as you wish.~ Carmen Milagro

Here's what people are saying:
"So many people have the wrong impressions when it comes to plant wisdoms. After being in the industry for over 10 years and building and selling 12 companies I can tell you firsthand that EDUCATION is crucial. Carmen not only has the knowledge but also passion behind explaining this here in her book. Be prepared for your questions to be answered and your myths to be busted because she walks you through everything. Carmen is the real deal when it comes this Plant Wisdom Education. I'm honoured to know her in this space."
Katie Kay
 Serial Entrepreneur | Investor | Business Coach
Ancient Plant Wisdom is not a fad but a legitimate movement rooted in science, human biology and physiology. As a registered nurse in Western modalities, I was very skeptical of promoting and recommending this to my patients. Once I took the opportunity to inquire, debate and learn about this plant through many educational courses, I made it a goal to learn all I could in order to become better equipped to recommend it to those who truly have a need. My goal was and is to provide significant relief to my patients who are suffering.
A particularly strong testament to its legitimacy is the growing support for it among athletes, especially fighters. They have become some of its most devoted advocates as they need neuroprotection and relief from migraines, muscle soreness, and anxiety the way a professional runner needs quality shoes. In addition to athletes, elderly patients, who are now my primary patients, experience unbelievable relief from pain, sleeplessness and anxiety. I feel blessed with the knowledge to better guide their dosing and customize their treatment product plan. This experience is by far the most rewarding to me in this field.
There is no question that this plant can play a helpful role in taking care of patients as a nurse. I am now advocating healthcare workers and my network to use it in helping patients. When you take the time to learn about it, you can be of even more help to the people who are under your care. The potential  benefits of this natural chemical compound are almost limitless, and they are definitely worth exploring.
Written by a former skeptical nurse:
Veronica Penagos, RN, SHRM-SCP
CEO/Founder
Quality Staffing & Business Consulting Company
ASK US ABOUT OUR WHOLESALE STARTER KITS!