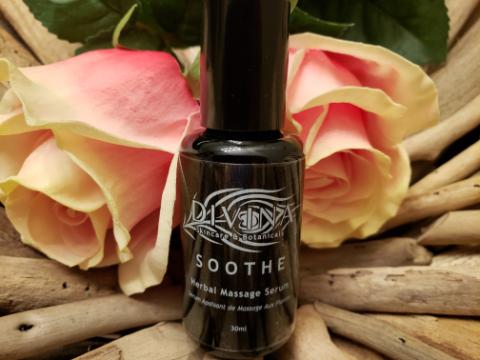 #12 SOLD OUT ~ ORIGINAL Formula SOOTHE Massage & Muscle Serum (30ml)
"Our muscle serum allows you to live a healthy & beautiful life."
Carmen Milagro ~ (CCBDC, MCPC, Educator & Founder)
Introducing SOOTHE our original signature, premium hand-crafted Herbal Massage Muscle Serum (Roll-On) infused with pure organic, Non-GMO, full-spectrum, clean and 3rd-Party tested 80%+ herbal as well as our Damascus rose essential oils plus other natural, organic and kosher ingredients created especially for you in your own personal "spa-in-a-bottle".
Our artisan formulas are based upon the timeless plant wisdoms of our ancestors and the modern "VGT". Why is this important?

VGT ~ Violet Glass Technology:
Allows entry of  beneficial light rays in addition to blocking damaging light frequencies that can harm organic matter and cellular structures
Far-Infrared nourishing frequency for organic matter
Violet Light enhances the molecular potency of ingredients
Ultra-violet slows the growth of mold, mildew, fungus and bacteria plus we NEVER add water which they all need to grow in the first place!

Sustainable
Recyclable
Reusable
We create products with special considerations with Cancer Warriors and Champions as our benchmark clients in mind so we can all live & relax better...while you "Nurture Your Body" and "Honor Your Skin"
How to use SOOTHE:

1) Simply SHAKE the contents.
2) ROLL the serum on your sore aching muscles.
3) Let your body ABSORB it in through your pores.
4) RELAX.
5) REPEAT (2-20x a day as needed until you no longer need it as often)

Our PERSONAL CARE SOLUTION for today's family never contains water, harmful synthetics or known cancer-causing agents!

We use only plant-based-from-the-garden and food-grade-from-the-pantry ingredients. All the time.
"No prescription needed!
ASK US ABOUT OUR WHOLESALE STARTER KITS!